Tuesday, June 2, 2009 at 12:25PM
By Gadjo Cardenas Sevilla Netbook manufacturers are redefining the form factor of the latest batch of Netbooks and moving from the 9-10 ' inch subportable style and moving to slim and light designs with larger screens and keyboards. Using the latest low-consumption processors as well as improved battery technology and design cues taken from Apple's Macbook Air, we see prices going up a bit accompanied by better functionality, increased connectivity, HDMI video out and improved battery life. About a year ago, many mocked the Apple Macbook Air for being slim but sparse in features and overpriced. Apple's take at a subnotebook went towards a thin and light profile but sacrificed much in terms of functionality, lack of input and output as well as fixed battery made the Macbook Air seem inflexible. Cheaper than Air The newer netbooks from MSI, ASUS, Acer and others are touting slim-and light profiles but promising increased battery life (due in part to Intel's Atom low-voltage processor). Many of the new skinny netbooks are taking design cues directly from Apple's Air but since these are clad in plastic, offer cheaper components and come in a variety of operating systems (from Ubuntu to Windows), they are a lot cheaper. -Asus Eee PC Seashell 1101HA Netbook Looking very similar to the Macbook Air is Asus's 1101HA Netbook, also dubbed the seashell. Touting a long (they claim 11-hour) battery life and a weight of 2.42lbs and a 10' inch glossy screen-Asus seems to be going for style, portability and longer battery life.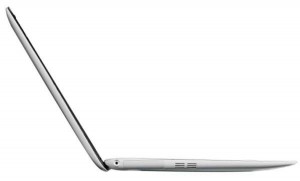 Asus Asus does include two USB 2.0 ports, multiple audio jacks, a 1.3MP camera, 160GB Hard Drive although its long-life battery is not easily replaceable since it is sealed within the body. Early reviews have been quite good and if we were in the market for a netbook for travel, Asus' seashell would definitely be on our shortlist. -Gigabyte ThinNote S1024 Under two pounds and touting a 10-inch screen, Gigabyte's S1024 flaunts a Windows XP OS is powered by Intel's Atom Intel processor and can be topped off with 6 cell battery and can be had for roughly US$600.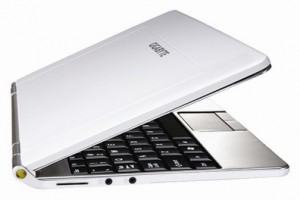 Gigabyte goes light with the s1024 Should it be made available in Canada, the ThinNote will offer a compeptetive feature set including 2 USB 2'0 ports, 60 or 80 GB HD capacities, SIM slot for 3G Internet connectivity (should be standard on netbooks by now), a 1.3Megapixel webcam and a surprisingly meager 1GB or RAM. Gigabyte may not have the brand recall of many of its competitors but this feature set and a good price point should make its ThinNote a viable choice for new netbook buyers. -MSI X340 Known for its Wind line of netbooks, MSI has upped the level of design, integration and sexiness of its thin and light 13' inch line of laptops. The lines, contours and the shape of the X340 are textbook Macbook Air design replicated in shiny plastic. A more economic Intel Core 2 Solo (1.4Ghz) processor runs things inside the MSI but the battery life is surprisingly short for a light notebook and we think it is because of Windows Vista. The MSI does offer a generous and reasonably fast 320GB hard drive, 2GB of RAM as well as HDMI and Wi-Fi in b/g/n flavors making it transcend the netbook plane and level up to specs seen in a serious business notebook territory although the US $800 price point might put some people off. We expect more thin and light models in 9-11' inch screen netbook and notebook configurations to continue hitting the market hard, specially as the back-to-school sales come closer. People clearly want power and convenience but are going for style, light-weight and functionality.